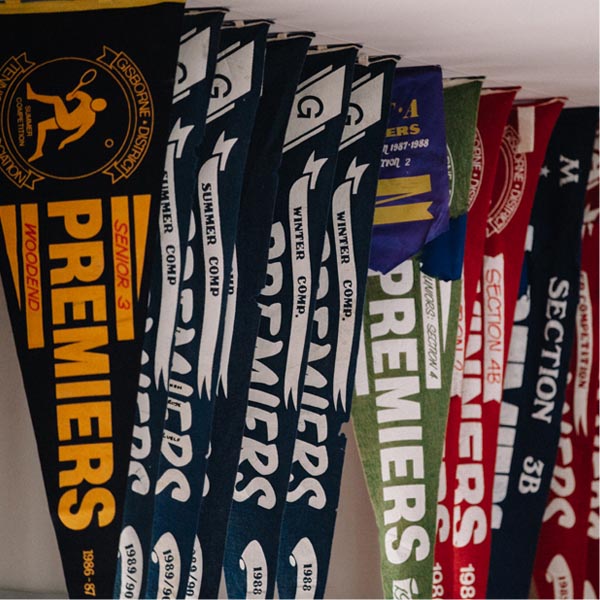 Well, after 5 weeks of fantastic tennis, the 2015 Woodend Tennis Club Championships came to an end on Sunday, 29 November.  It was a day of great tennis, fine weather, music, good company and wine tasting. It doesn't get much better than that!
Congratulations and thank you to all who participated in the Championships. Approximately 70 matches were played over the 5 week period.
The final day had a fantastic attendance for its entirety. Approximately 130 people enjoyed a fantastic day of tennis, starting at 11am, with a nail biting Mixed Doubles final, concluding with a marathon Mens Singles Consolation and an extremely high quality Mens Singles final.
The results were as follows:
Men's Singles – Brett Marchant defeated Simon Woodhouse
Men's Singles Consolation – Brent McGrath defeated Tony Hanegraaf
Men's Doubles – Brett Marchant & Jordan King defeated Brent McGrath & Paul Green.
Men's Doubles Consolation – Jim Wright & Jaryd Simpson defeated Paul Lewis & Keir Strahan
Women's Doubles – Kellie Duff & Shelly Giddings defeated Leonie Barker & Briony Duff-Tytler
Mixed Doubles – Brett Marchant & Kellie Duff defeated David Thomson & Tori Young
Mixed Doubles Consolation – Simon Woodhouse & Cheryl Garner defeated Paul Lewis & Laura Clark
An enormous thanks to our major sponsor for the day – The Brooke Street Medical Centre. Their generous contribution continues to support local events that promote participation in physical activity.
Also a massive thanks to Holgate Brewhouse. Paul and Natasha Holgate are generous sponsors of our club and thanks again go out to them for supporting this function.
To Alex Wilcox of Bellota Wine and Food Bar and Prince Wine Store, thank you so much for your generous support and donation to this wonderful Club.  You truly added a relaxing, interesting and informative touch to our exciting day of tennis.
One of our aims at the WTC Committee, is continuing to strive to develop an inclusive, fun and social aspect of this Club. The reintroduction of the Club Championship was another important step towards this.
We would love your feedback on this great event, as we strive to make it an even bigger and better Championship next year.
As we like to say  Come Play.